Translated from Ukrainian by Natalia Volynets.
"Being asked "What kind of a feminist am I now?" I say I am a practical one.
A situationally-practical one."
Svitlana Dubina, Vis
The escalation of the war and the beginning of the Russian Federation's full-scale invasion of Ukraine has changed the daily lives of every one of us. From Kharkiv to Lviv, from Kyiv to Mariupol, from Zaporizhzhia to Vinnytsia — we are forced to quickly change our plans, daily activities, and usual worldview.
NGOs, feminist organizations, and communities dealing with LGBT+ issues involve people who constantly counteract violence, inequality, and discrimination.
The war has intensified these issues while revealing new obstacles and creating new challenges.
We talked with Ukrainian feminist and LGBT+ organizations to hear about what they are doing now and how they can be supported.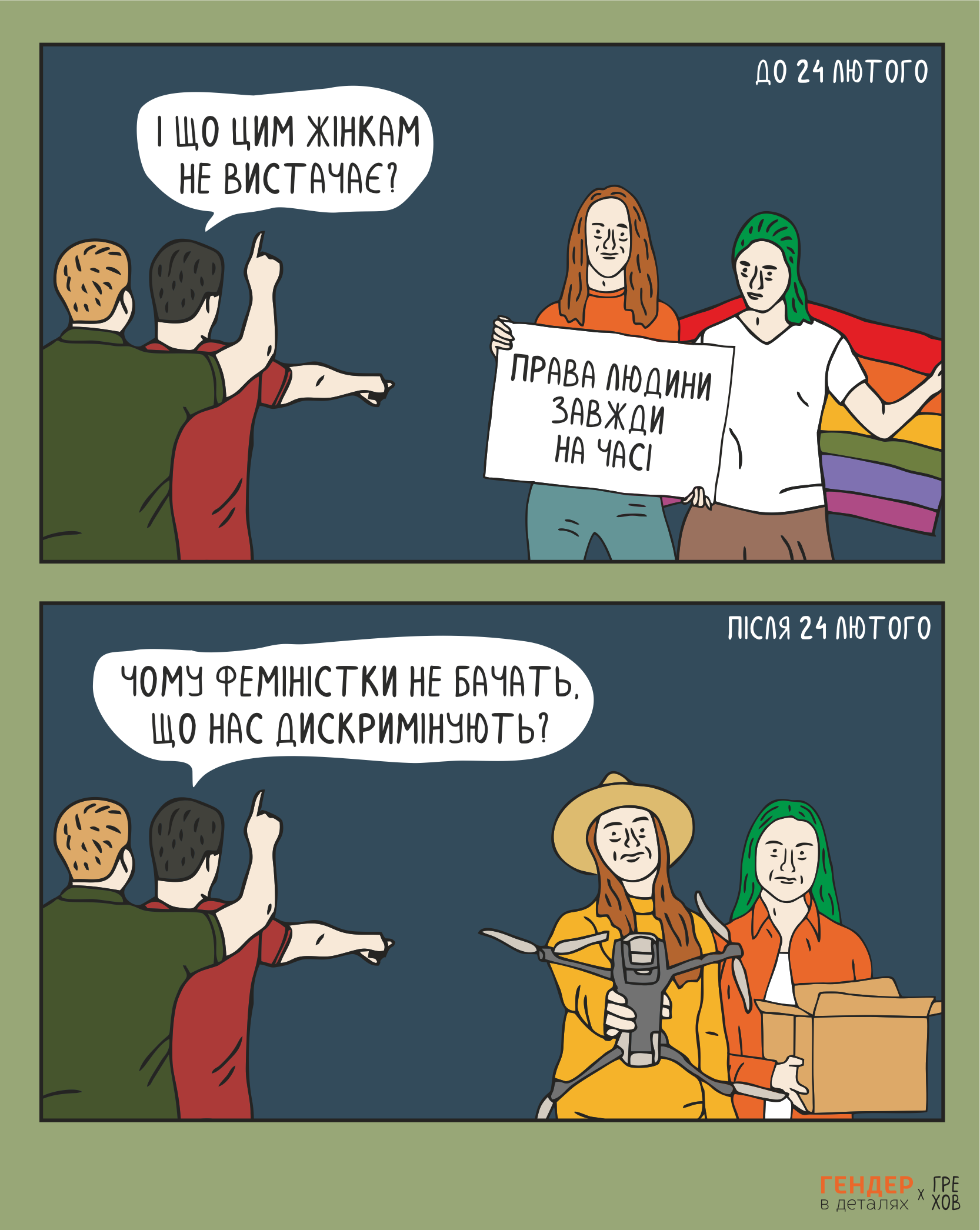 Feminist Workshop
Western Ukraine has become a refuge for many people. Evacuation trains carried the most vulnerable population groups, covering thousands of kilometers to get them from constant explosions and rocket attacks to relative safety.
Hospitable Lviv, which is usually associated with old buildings and the Rynok Square impregnated with the aroma of coffee, seems to have been centered around the train station during the war. People came here from the east of the country, from here they went to Poland, and here volunteers met people with hot food.
The Feminist Workshop has been operating in Lviv since 2014. This non-governmental organization (NGO), which enhanced the formation of the feminist community in Lviv, is now widely known. In peacetime, its employees were involved in educational activities among teenagers, filmed a video blog, and organized fem schools.
Back in 2019, the Feminist Workshop started a dialogue on the complexity of the militarization perception through a feminist lens. The "(ir)relevant" project analyzed and criticized various forms of violence and its counteraction options under total militarization. Today, this position remains relevant, and the activists focus on direct assistance to women with children and elderly women, and joined the information war.
First of all, this means providing housing for women facing difficulties, as well as for feminist activists who were forced to evacuate to Lviv. Finding housing for a long time period is very difficult as the city is crowded, but the women working at the Feminist Workshop created a fem-apartment, where one can live for free for up to six months.
Ivanka, one of the volunteers who recently joined the team, helps take care of children. It is psychologically difficult for women to pay enough attention to their children and, at the same time, not to be in constant stress. In addition, they need to address numerous issues that arise during resettlement — finding housing and work, paperwork, and humanitarian assistance, all of which is much easier to do when there is someone to leave your children with so that they are played with and taken care of.
The Feminist Workshop also pays attention to older women, which is another vulnerable group with more disabilities. Age gradually affects them and they may have limited work options (if any) or face health issues, and, hence, they need medications and care. The elderly are physically unable to stand in long queues for humanitarian aid or similar things; therefore, through cooperation, the women organized to provide elderly women with necessary items. In addition to food, this includes daily support, if needed, networking, and emotional support.
These busy activities require constant support. If you want to join as a volunteer, you can write to the team. You can also donate to support the projects and humanitarian aid by following the link.
Women's Perspectives
Another team that has always operated in Lviv is Women's Perspectives. Registered in 1998, this was one of the first feminist organizations in Ukraine. During the entire period of its work, it has implemented over 30 projects and assisted more than 5,000 people.
The organization's priorities include gender equality, combating domestic violence and human trafficking, and supporting women's and human rights organizations. The priorities have not changed since the beginning of the full-scale war, unlike the forms of their manifestation and organization.
Almost immediately at the beginning of the war, the team found a large room, provided by business owners. The typical office center has turned into a shelter for women and children. They can spend the night here before going further, or stay longer, if needed. They can get medicines and food or psychological counseling (for both adults and children). Importantly, children have one more option: non-formal education classes. The team realizes that a large number of people staying in one place are difficult not only for the hosts, but also for the displaced people themselves. Therefore, the team redirects them to safe regions in Ukraine that are not as densely populated as Lviv, and transfers them to a shelter for internally displaced persons.
As the war progresses, the number of shelters seems to decrease. It is becoming increasingly difficult to find humanitarian aid or housing. Although some cities (such as Kyiv) have become safer compared to February, a large part of the country is still a dangerous combat zone. Dnipro, Kharkiv, Kherson, and Mykolayiv are frequently shelled, and it is unsuitable to return there, especially for those with children, and many people have no home to return to. Aware of these new war challenges, which will not simply disappear, Women's Perspectives wants to create two more shelters. They will differ from the existing one in that they will function not as temporary shelters, but as long-term and comfortable shelters for women with children who cannot return home.
The organization requires facilities, appliances, and medicines for displaced people. To donate, please follow the link.
Lviv is now crowded and busy. Organizations, associations, and entire cultural projects are being relocated here; humanitarian goods pass through Lviv; and people rest here before crossing the border and try to plan their further lives.
Insight and "Marsh Zhinok"
The NGO Insight and the Marsh Zhinok (Women's March) initiative are also active during the war. Insight has always supported the LGBT+ community, which is its major task that is still relevant today. However, before the war this was mostly with an informational support blog; now there is a whole set of issues on the organization's Facebook page, including searching for shelter, medical and psychological assistance, and so on. There was established cooperation prior to the war, like support with trans-transition, but now all these processes face new challenges.
Marsh Zhinok has never positioned itself as a volunteer organization, but exclusively as a feminist initiative about women and for women. Its work relies on this principle and now, though many consider assistance a volunteer activity, the representatives themselves talk about it as something that they simply must provide.
From their first days, the organizations have been working at a crazy tempo. Two lines were set up to provide help and psychological support: one for the LGBT+ community and the other for women. They offer crisis psychological assistance and psychological consultations, for which they created simple application forms, as well as consultations on legal issues, including regarding lost housing, paperwork, going abroad, etc.
"From the first days of the war, we started looking for a place for shelters in the west of Ukraine, where people could spend a night or stay longer, get necessary things and medicines. Currently, there are three such spaces, two in Lviv and one in Chernivtsi," Taisiya Gerasimova says.
There are seven people on the team now and, in addition, 12 volunteers who constantly help with organization, finding housing, coordinating people, and providing humanitarian assistance.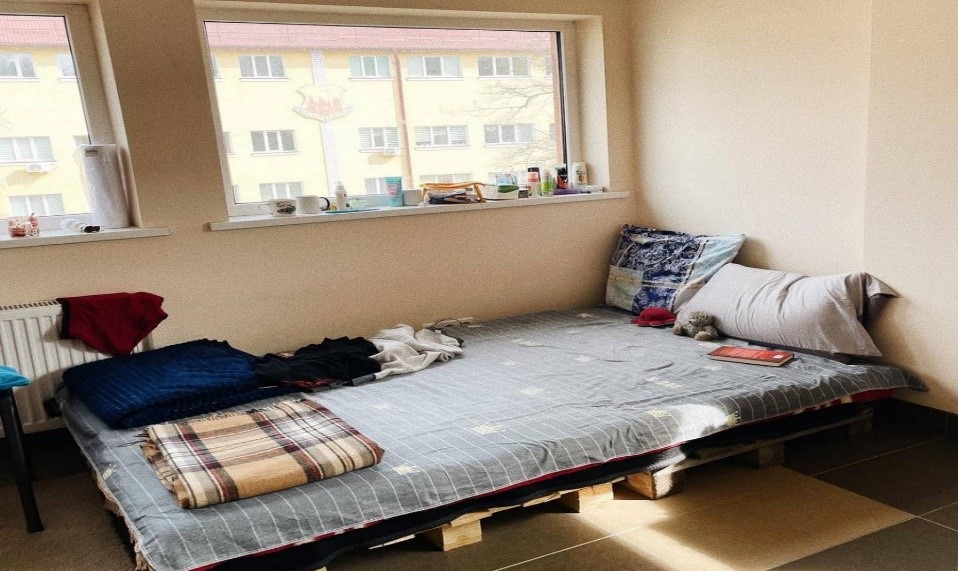 Photo of a shelter in Lviv
"Organizing humanitarian aid is a serious challenge. There are a lot of requests, especially from women with children, elderly women, and those who are not able to buy essentials.
These are people who were evacuated from dangerous areas and who lost their jobs and homes. Every day, a team of volunteers sends 100–130 shipments to different parts of Ukraine, where delivery service is available.
We tried different approaches to collecting applications for help. For some time, the application form was constantly open, and we could receive 3,000 applications a day. We could not handle such an amount, neither financially nor physically. So now we have come to the point when we open the form for a limited time. In the 40 minutes that the form is open, we receive about 150 applications.
I would also like to talk about the humanitarian hub volunteer team — almost 60 people! Almost all of them moved to Lviv because of the war. Most found the organization via our social media pages or our shared posts about searching for female volunteers, while some came with a friend, and several people live in our shelters."
Organizing humanitarian aid is a small world, where everyone has their own tasks: find people to help with procurement, packaging, or delivery; people who process and distribute applications; and people who take care of others. Some people do this in Ukraine and some work from abroad. Everyone has faced new challenges.
Taisiya Gerasimova notes that their focus on supporting transgender people still has a clear mechanism, despite becoming more difficult due to the war. This includes providing medicines that cannot be bought in pharmacies, advice on crossing the border, and assistance with other medical and legal issues that arise in the process. Gradually, in all spheres, things are getting back to normal in Ukraine, but this was not the case in the first weeks of the war, since there were many questions and applications that needed to be urgently addressed.
Despite a higher level of European tolerance, LGBT+ people face numerous challenges. These are both general, such as finding housing and work or paperwork, and more localized issues, such as registration (living together may be not allowed if people are not officially registered as a couple), receiving specific medical care (for example, for trans people), and psychological support. The Insight team helps with all these issues in cooperation with European organizations that joined during the war and are using their own resources.
Insight and Marsh Zhinok operate at their own expense. Finding funding for rental housing and to purchase items is a separate challenge. In the first month, private donations from Ukraine and around the world helped a lot. However, as time passes, the global community's interest is also gradually declining — they do not realize the scale of the humanitarian crisis, which is now pervasive in Ukrainian society. If you would like to join and help, you can donate to Insight and Marsh Zhinok here and here.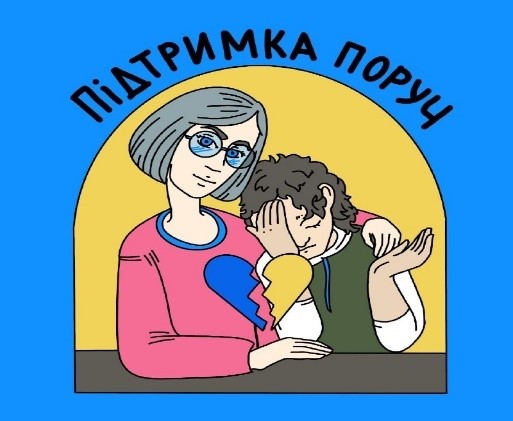 Sphere and Kharkiv Pride
Sphere and KharkivPride operate similarly to Insight and Marsh Zhinok. They also have two activities: women and feminist optics, and the LGBT+ community.
Currently, the team consists of 11 employees scattered not only throughout Ukraine but also around the world. There are those who remained in Kharkiv despite daily shelling, and there are also those who were forced to leave; hence, most of the projects are organized remotely.
Many projects that started before the full-scale invasion were reformatted as the war escalated. Some of the ideas seem less relevant now, while others require significant funding. The budget has been redistributed considering urgent needs, and funds have been allocated for humanitarian aid. The humanitarian assistance provided by these project teams includes essentials and remittances that cover the cost of basic goods for women and LGBT+ community members.
During the war, LGBT+ chats were created and eventually identical groups appeared for women. All this is realized in the "equal-to-equal" format as the main trigger that is being worked out is war. Prior to the full-scale invasion, psychological assistance was one of the work areas and did not actually stand out among others, but now it is the main task. The only thing that support groups and professional psychological counseling do not work with is rape in war.
One of the humanitarian aid areas that has already been provided is support for women at the front: contraception, menstrual cups, personal hygiene products (including pads, tampons), pregnancy tests, medications, etc. The police and volunteers made it possible to transfer this assistance to female combatants and civilian women in the combat zone.
Currently, Sphere and KharkivPride are gradually resuming their typical activities. They support their own project-hub, conversation clubs in Ukrainian, speaking clubs in English, psychological support groups, and educational broadcasts on current topics. You can support them by following the link.
La Strada
Ukrainian communities work in all areas. Not only physical support (babysitting, bringing some food, provide transportation) is important. Psychological, legal, and informational support are also crucial. That is what La Strada is about.
Its major activities include informing and counteracting violence, discrimination, and human trafficking. It declares feminist values and works relentlessly. It did not stop working during the COVID-19 pandemic and continued helping in the most difficult times.
"The war has radically changed our work," Alyona Krivulyak, director of the Hotlines Department, says. There are two lines: the National Hotline for the Prevention of Domestic Violence, Human Trafficking, and Gender Discrimination and the National Hotline for Children and Youth.

The war has created new obstacles. Before, the team worked in an office in Kyiv, but now its members are scattered all over the world. It was important to keep the same phone numbers available and make sure that everyone is safe, has a stable Internet connection, and is psychologically able to work. The team could not return to the office since it is dangerous. For the first three weeks of the war, they provided consultations only through La Strada webpages, responding to inquiries and messages. For instance, they created a whole series of publications , providing information on how to evacuate to different EU countries.
Since March 11, the hotlines have resumed their work and now work 24/7 while involving all possible resources.
The key issues have not changed: violence, both domestic and gender-based, and protection of children's interests and rights. However, there is one "but." During the war, the number of appeals has significantly increased. This is due to the general tension, increase in the number of those having access to weapons, and increase in the number of cases of violence (psychological and sexual). The result is that the hotlines, social networks, and e-mail operate literally day and night.
Prior to the full-scale war, the National Hotline for Children and Youth operated from 9 a.m. to 9 p.m. Now it operates day and night since the huge challenges for society and children in need of psychological help should be properly addressed.
The number of appeals to the Hotline for the Prevention of Domestic Violence, Human Trafficking, and Gender Discrimination has also increased. Women began to experience more violence and more fear due to the increased accessibility of weapons, and if previously a quarrel could end in beatings, now there are even more dangerous threats with weapons.
Most often, appeals come from war victims. La Strada has had experience with internally displaced persons since 2014, so this is not a new category of people for them; the only change is that the number of their appeals has significantly increased. To date, there are many inquiries about how to evacuate from combat zones, leave the temporarily occupied territories for the territory controlled by Ukraine, register as an IDP, obtain IDP status, get social benefits from the state, safely get abroad and not face possible human trafficking, take children abroad, adapt to living abroad, what status to obtain, and so on — all these issues currently constitute the largest category of appeals.
However, the issue of domestic violence has by no means become less relevant as the number of respective appeals is still large. There are many concomitant factors that are directly related to the war and negatively affect domestic violence victims. In particular, considering active combat zones, a woman facing domestic violence in her family has almost no one to turn to. She also has no possibility to undergo a forensic medical examination to be able to prove anything later since hospitals are destroyed or used by the occupiers for their own purposes.
The constant availability of telephone consultations is crucial. This helps to accompany victims at each stage. La Strada strives to organize everything so that a victim of violence does not communicate with the occupying authorities, with the exception of emergency medical care.
Of course, the war shifts the focus in the country. In particular, military support and protection of territories have become crucial. Other issues seem to be much less relevant, and focus on the external enemy prevents solving internal challenges. Even prior the war, the police did not do their job very well and sometimes ignored women's complaints about domestic violence, but now the number of such complaints has statistically increased. Female victims themselves also believe that their own security is not so relevant and, during the full-scale war, are ashamed to seek help, appealing to the fact that Ukraine is at war and, hence, all structures should focus on saving the country, supporting the military, and defending from the enemy.
Another issue is the rape of Ukrainian women by Russian Federation occupiers. So far, there have not been so many such appeals, but there are some. Representatives of organization themselves consider their sample of such cases unrepresentative as not all women survive the rape, not all of them have an opportunity to leave the occupied territories, and not all of them dare to seek help.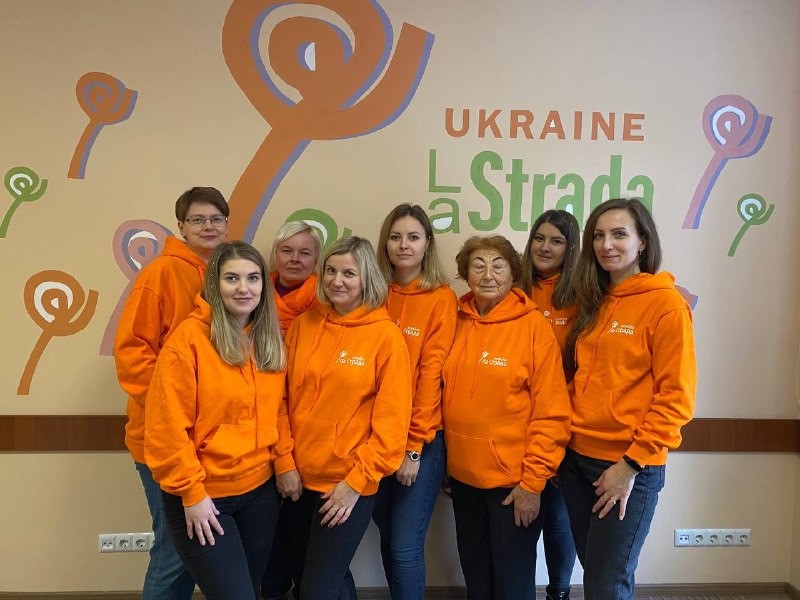 If you want to support La Strada, you can do so by following the link.
JurFem
Legal consultations, which are one of La Strada's activities, are the focus of the JurFem Ukrainian Women Lawyers Association. JurFem was founded as a space for women lawyers, which later turned into a systematic network of female judges, lawyers, and other professionals in this field. The association has its own membership terms, goals and objectives, and charter.

During the period of the Russian Federation's full-scale military invasion of Ukraine, JurFem has become one of the largest information spaces. It provides legal advice on a number of the most pressing issues that have arisen during martial law and that everyone has faced in one way or another, including the status and rights of internally displaced persons, border crossing issues (women with children, orphans, and husbands), the difference between refugee status and temporary protection status, and the work of courts, notaries, and law practices.
The organization covers issues such as violence, sexual harassment, etc. Its website provides articles on what to do if one has experienced sexual violence or witnessed it, how to properly record it, and who to turn to for help. There is also a rape hotline. If a victim of sexual violence can receive legal advice, a professional female lawyer is assigned in the required region, and, if necessary, an individual security plan is drawn up and information on shelters, NGOs, and psychologists in the region is provided.
There are several ways to help JurFem: share their articles and contacts, join if you are a female legal expert, and donate to support the project.
Vis
Another city that has hosted many people is Vinnytsia. It has also been attacked by the enemy, but so far it is relatively calm and one can walk the cozy streets to the playgrounds or along the Southern Bug River, or admire the light and music fountain. Vinnytsia welcomes and gives comfort and peace, but all this is created by female public figures, organizations, and volunteers. One of these public organizations is Vis (Axis).
Vis has operated since 2010. Its initial primary purpose was to ensure equal rights and opportunities for people to be active and exist in all spheres of life. Gradually, the tasks were formulated more clearly: support for girls and women and their leadership; informational and educational activities in the field of human rights; raising awareness of the problems in combating various types of violence; and developing volunteering and employment assistance for people in difficult life circumstances. The latter task has become one of the priorities during the war.
Prior to the war, Vis and Women's Perspectives held a femencamp for girls aged 18 to 23. With support from the Ukrainian Women's Fund, Vis implemented information projects, such as information and support bots for girls, an anti-violence advocacy campaign, participation in women's marches, forums, etc. Long and effective cooperation over many years with various NGOs, foundations, and organizations has contributed to the widespread popularity of and support for Vis.
From the first days of the war, Vis and other local NGOs organized a humanitarian center. One week after the start of the war, donor organizations, which were also previously known for feminist activities, began to offer their help and resources. The humanitarian center, which emerged almost spontaneously, was later systematized. First and foremost, people needed food, medicines, and hygiene products. Vis managed to organize a more individualized approach so people can get what they really need. This possibility to choose also contributes to psychological well-being: instead of constantly standing in queues for a standard set of basic products (which are decreasingly available during the war and, hence, the number of items in a social set is also decreasing), a person can choose what they need.
Vinnytsia is a big city, hosting many organizations, both governmental and private, non-governmental ones. Almost from the first days of the war, all of them reorganized their activities to provide more substantial assistance to people in accordance with the new needs. However, there are still gaps, some of which have become the focus of Vis.
For example, humanitarian aid is often provided only to registered IDPs, and until they are registered, they cannot claim help. However, the need for food, medicines, hygiene products, and baby food cannot wait. In addition, many foundations provide one-time assistance. This helps if a person can find a job and arrange a new life for the future, but there are currently few job vacancies and basic needs remain unmet. The problem of housing is also relevant in Vinnytsia. There are few shelters; most people are forced to rent an apartment, and most of their money is spent on this, which makes it impossible to provide for other needs.
There is a problem of women and children staying not only in cities, but also in various small villages. If cities are already more or less organized in terms of assistance and providing better food and psychological support, such opportunities are simply non-existent in rural areas. Vis wants to focus specifically on this issue as, according to its data, about 170,000 internally displaced persons live in Vinnytsia Oblast now (as of May 16, when Vis representative Svitlana Dubina was interviewed – Ed.). It can also a safe assumption that many of them have not registered. Even with humanitarian aid, the situation is difficult in rural areas: most resources are available directly in cities, and few reach villages. Another problem is psychological support. The only thing left for people in villages is online counseling and psychological support hotlines, but not everyone is aware of such lines or sure if they work. Access to information is extremely important nowadays; therefore, it is currently a highly relevant issue to provide information and psychological support to all possible vulnerable groups regardless of their location. Svitlana and her team plan to go to the villages of Vinnytsia region with this mission.
As for general informational and educational work, this one of Vis' major activities prior to the war has slightly decreased now. All the campaigns planned for March 8 (International Women's Day) were canceled due to the war. However, for example, the team created a feminist calendar, and now copies are distributed to those who care.
Currently, two issues are particularly relevant. First is organizing specific psychological assistance. Volunteers and team members always communicate with people who coming to them, but this is not enough, as people often need not only support, but also expert help. The second issue is traveling to villages to provide humanitarian, informational, and security assistance.
"There are resources — we need forces to fulfill them," Svitlana says. As the war develops, unfortunately global attention decreases, while the number of issues increases. To follow Vis activities and to support the organization, please use the link.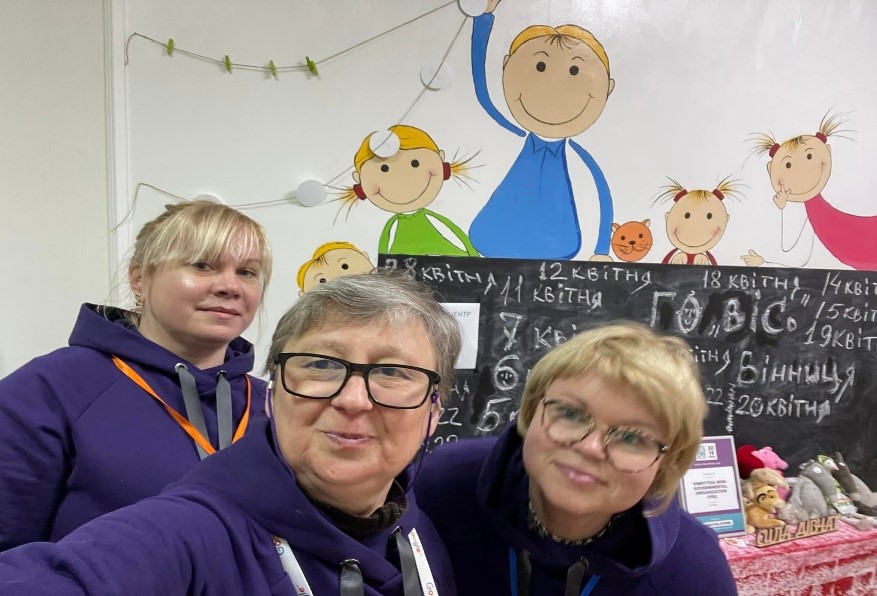 Ukrainian Women's Fund
Among those who helped Vis at the beginning of the war was the Ukrainian Women's Fund, which supports women's and feminist organizations. Fund representatives implement both their own ideas (in Ukraine and abroad) and support similar projects. This usually includes funding socially important projects that are somehow related to women: training courses, educational or informational flash mobs and events, and sociological and socio-cultural research. The war has slightly shifted the focus, but did not change the nature of the team's activities.
In the first month of the war alone, the Ukrainian Women's Fund awarded 37 rapid response grants to various Ukrainian women's and feminist NGOs. This support enabled organizations to provide humanitarian assistance, including food, medicines, personal hygiene products, household items, and children's items.
Recipient organizations of the Ukrainian Women's Fund are scattered across Ukraine. Segmentally, they support women with disabilities, adolescents, women with children, and the elderly. Despite the possibility to leave the country, all the above categories of citizens are vulnerable. A separate group is those female activists who have stayed in their cities and continued working, even despite shelling. For security reasons, the fund does not publish the full list of assisted associations. Representatives of these associations do their job every day. The fund strives to structure its support and provide funds for real needs.
If you want to support the Ukrainian Women's Fund, and with it many Ukrainian feminist organizations, you can do so by following the link.
NGO Girls
The NGO Girls operates with support from the Ukrainian Women's Fund, UNICEF Ukraine, and the Heinrich Boell Foundation's Office in Ukraine. This is a small team running a social and educational project for teenage girls. Currently, it is mainly focused on local assistance to women with children in Kyiv and Kyiv Oblast, in particular, targeted financial support to victims from Irpin district.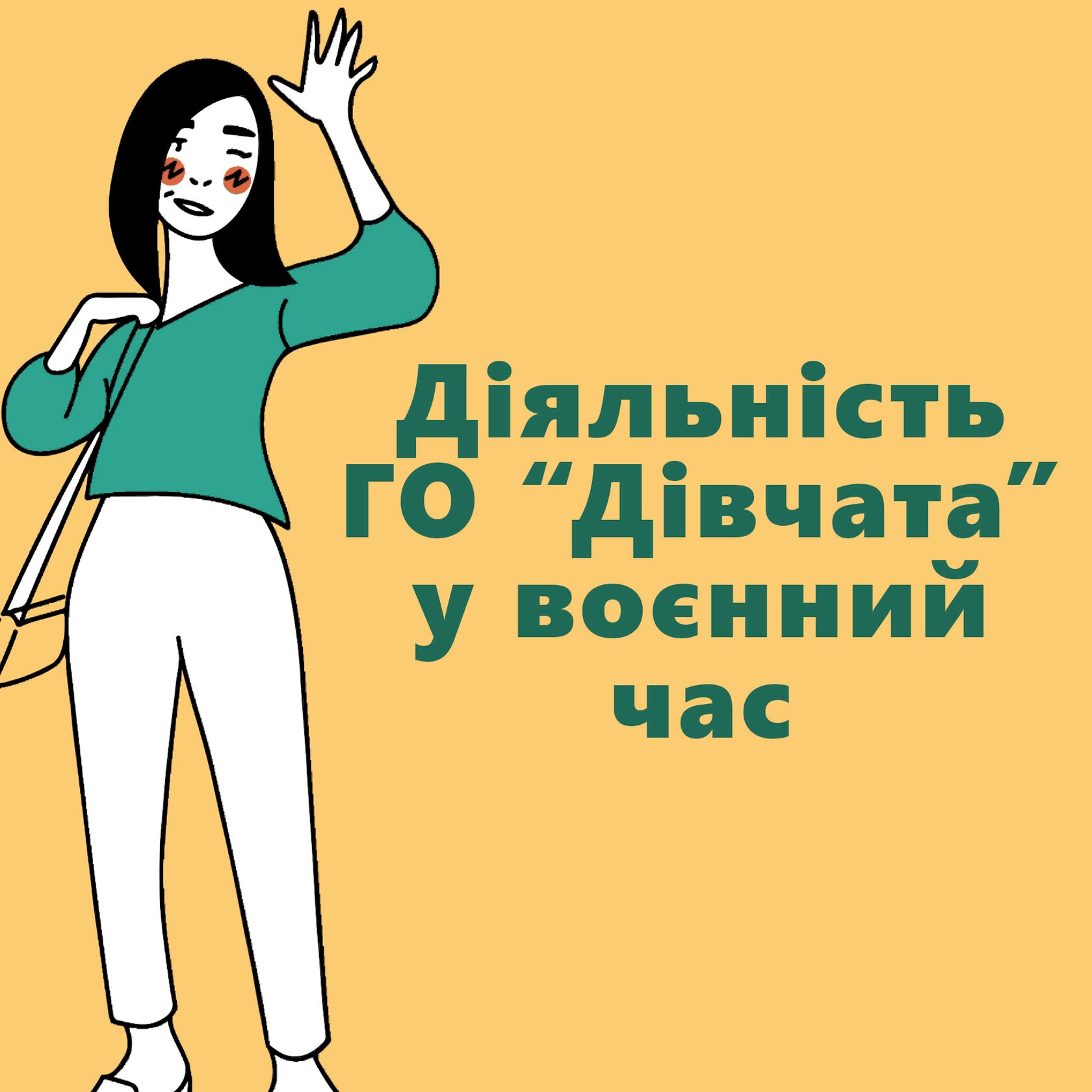 NGO Girls also provides traditional humanitarian assistance while focusing on small children: diapers, wet wipes, and baby food, along with a standard list of food and medicines. All this is provided to children, women, and the elderly. The organization does not purchase or supply military items.
Prior the full-scale invasion, thanks to Girls, many educational activities were organized and educational lectures were held in open areas, schools, hubs, etc., because the NGO's main goal is to encourage girls to consciously build their lives, know themselves, their bodies, and their physiology, and be psychologically mature. Currently, the priority is information warfare on social networks and support for those in need.
You can donate to NGO Girls by following the link or ordering a lecture.
GenderZed
There is a significant increase in the number of various organizations located in the west of Ukraine. In addition to those that have always worked there, there are now those that have evacuated and relocated to western regions. However, life is also busy in other parts of the country. For example, unconquered Zaporizhzhia continues living and working, despite the fact that most of oblast is occupied.
This is where GenderZed is based. It is a human rights organization working on a wide range of issues related to sexual orientation and gender identity, gender inequality, overcoming stigma regarding the LGBT+ community, and overcoming gender inequality and gender-based violence. Special attention has always been paid to women's rights and feminist values. A separate area of work is in preventing HIV and sexually transmitted infections. The GenderZed space always provides HIV testing and a free health safe box for men, which includes an oral HIV test, condoms, lubricants, and an information booklet.
In peacetime, GenderZed was an active participant in all events related to the LGBT+ community, including informational support, gradual overcoming of stigma through educational activities, participation in prides, etc. With the escalation of the war, its activities did not decrease but their focus slightly shifted. Since February 24, the whole team has switched to remote work. In the first days, it disseminated information about the invasion and, when possible, provided psychological support to its audience.
Later, the organization started providing humanitarian aid to LGBT+ people in need. This was enabled by the overwhelming support of the international community, which disseminates information and donates money for the needs of LGBT+ people.
The whole team now processes applications for assistance in their free time. Hence, the work is almost round the clock, which is quite difficult, both emotionally and in terms of resources. There are a lot of appeals coming from the temporarily occupied territories and regions affected by rocket attacks. The scale of the tragedy is very large, and even if it sometimes seems that it is getting calmer, people's need for psychological support is only growing, because the war is still ongoing.
However, the organization has not stopped doing its main work. It continues educating and informing, as well as testing for HIV, syphilis, and hepatitis C. The front line is very close, but the challenges that were relevant before the full-scale war have not disappeared with its escalation.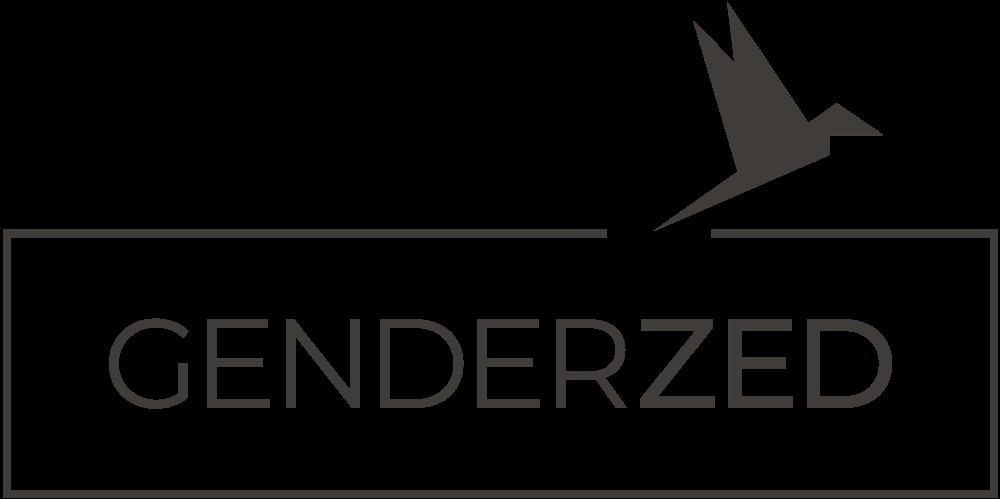 Prior the full-scale invasion, the organization had been planning a new project for lesbians and bisexuals called "Girls for Girls." February 24 put these plans on hold, but now the project has finally been launched, promoting hygiene and understanding the female body, safe sex between women, and the importance of safety. In addition, a Telegram bot has been created specifically for lesbians and bisexuals that provides an opportunity to follow a quest on women's health, raise awareness, and get a fem-box similar to the one that has existed for some time in the men's organization.
On its social media pages, GenderZed publishes information that can be useful during the war, such as seeking shelter, humanitarian assistance, opportunities to help the army, etc. All this is systematized and summarized to ensure quick and easy access at any time.
If you would like to support GenderZed activities in Zaporizhzhia, you can do so by following the link.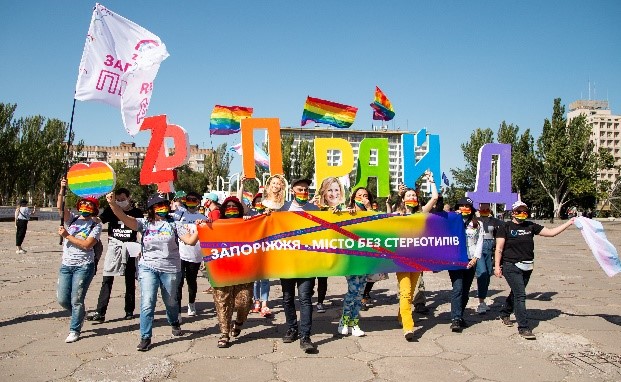 KyivPride
At one time, GenderZed joined the organization of the first Pride in Zaporizhzhia. Zaporizhzhia Pride did not manage to become a completely independent and well-known project; however, KyivPride and KharkivPride are currently active in Ukraine.
Since the beginning of the full-scale war, KyivPride has continued its activities, but has almost completely changed the way it helps LGBT+ people in Ukraine. Of course, information work has remained the most relevant, including through social networks, but now it also involves cooperation with well-known publications and news agencies from more than 15 countries, including BBC News, TIME Magazine, New York Times, GAY Times, and Pink News. Europeans have a lot of stereotypes and even terrible notions about the state of the LGBT+ community in Ukraine, because the issue has never been widely covered. The war and, as a result, the dissemination of information have helped to reduce stereotypes and organize assistance to the community.
During the war, about 400,000 hryvnias have been spent on targeted assistance, including for food, medicines, hygiene items, other essentials items, and household goods. More than 650 queer people have received assistance and continue receiving it; the application form is still available.
In Kyiv, together with GAU, KyivPride opened a shelter for LGBT+ people and their families. This is important not only in terms of how many people could have lost their homes, but also in terms of psychological condition. After all, unfortunately, not everyone and not everywhere is ready to rent an apartment to a homosexual couple or settle such people. Besides, not all of them want to stay in the city, especially as it was dangerous in Kyiv for a long time since the beginning of the full-scale invasion. Hence, KyivPride began to organize its own evacuation trips to the west of Ukraine and abroad.
Another activity is psychological assistance. There are support groups three times a week, involving trained psychologists who have experience working directly with the LGBT+ community.
KyivPride not only helps in terms of resources, but also focuses on its primary goal. For instance, a joint KyivPride and WarsawPride is planned for June 25. The Prides will unite and hold a joint march for peace and freedom in Ukraine and against Russian aggression. It is not possible to hold Kyiv Pride in the usual format, because this is dangerous, but the Warsaw community is supporting the march against the war and for freedom and human rights.
"We provide space to the voices that need to sound louder."
Support KyivPride by following the link.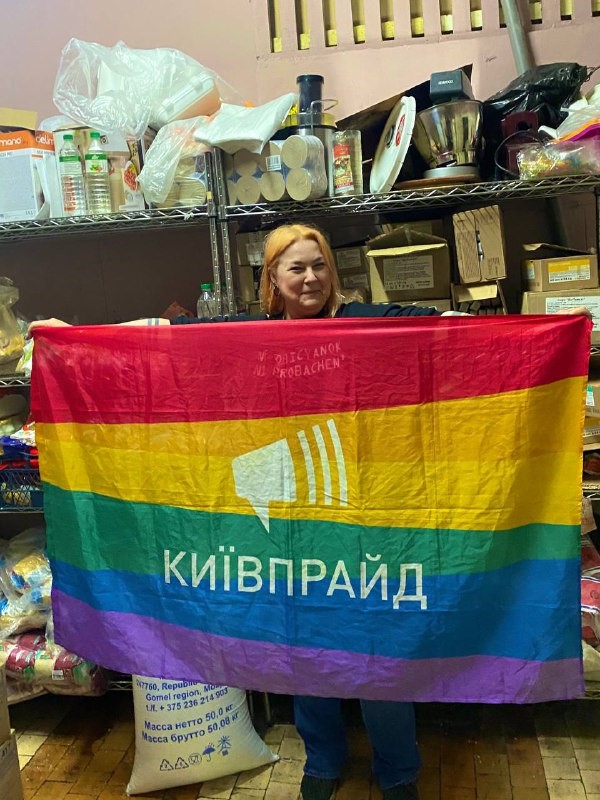 From Kharkiv to Lviv, from Kyiv to Mariupol, from Zaporizhzhia to Vinnytsia — we have all changed our plans and daily activities and abandoned the usual for the sake of the needed. Everyone works tirelessly, providing shelter and basic needs. Anyone in need can apply.
Support feminist and LGBT organizations in Ukraine
I need shelter or humanitarian aid